Yesterday I felt like dressing up a bit - there was something about the smell in the air that reminded me of spring. So I wore this springtime dress and cardi combination.
The cardigan is from when I was little - back then it was huge on me (that was the 90s!) but now it's really cute and cropped.
The dress is from a little op shop in a church in Northcote, only about 1 month ago, for about $5. From the zigzagged seams to the unfinished hems, it's very obviously home made. It's so lovely I can't help wondering who made it, and whatever possessed them to give it away?
Hm. I'm not sure if the black tights go with it, but despite the springtime smell it's still really cold, and grey tights looked too sombre.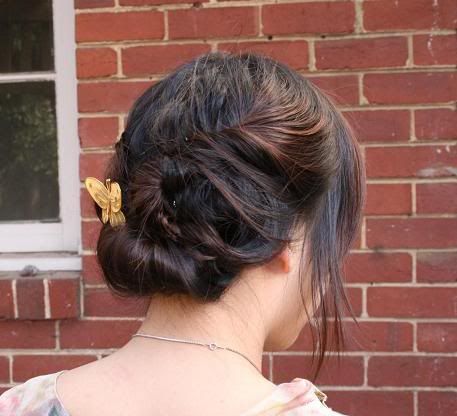 I felt like wearing my hair up, which is unusual for me. Usually I like wearing my hair down and feel really self conscious when it's up. The butterfly clip is actually a brooch and was handed down by my mother from my grandma.
It was so lovely being in the sun in our little backyard, which was bathed in sunshine and was permeated with the smell of the jasmine. Backyards are wonderful, I've always had them and I'll always want them. They make me feel like I have my own little magic place tucked away, like a secret.