I'm working this weekend, and don't have anything to look forward to except for dinner with my parents tomorrow. So, I'll hark back to better times and post pictures from Wednesday (my most recent day off work).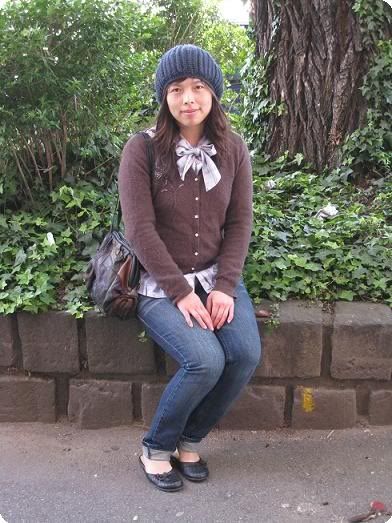 This bow blouse was actually in the Port Fairy haul, but I forgot to post about it last time. It has a strange little plaid print that I really like. I think it's from the '80s, but can't be sure.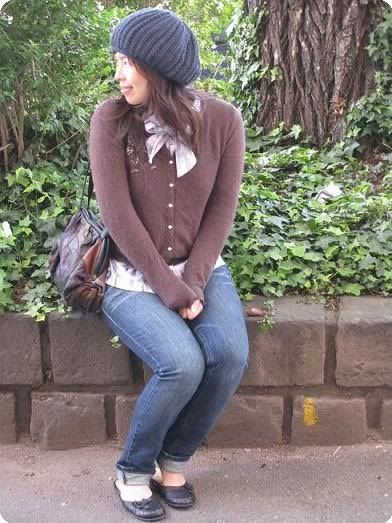 I find I have a lot of trouble putting together outfits that are 100% secondhand. Having a huge wardrobe accumulated over my lifetime (and being a hoarder, so never throwing things away) means that I tend to mix up vintage with things that I've bought new (prior to this year, of course!).
I have the most trouble with shoes. Does anyone else have this problem? I find that shoes are always either not my size, too beat up to wear, or give me the heeby jeebies when I touch them (let alone wear them!).
However, I DID manage to thrift an awesome pair of almost-new black Doc Martens in my size the other day. Having been a teen when they were cool the LAST time around (how old am I?!?) I will always have a soft spot for Docs. They are also perfect for the overseas travel I am planning, and I'm glad I didn't resort to buying boots new. More on that later!

Blouse: vintage? from Port Fairy op shop
Cardigan and jeans: gifts from my mum
Beret: gift from my man
Bag: ebay
Shoes: bought at a shop in Werribee in 2005 or 2006