So on Sunday, we went to see one of my favourite bands in the whole wide world play in Northcote. It was actually quite hot so I was able to break out this sundress I've been itching to wear. This look was breezy and casual and perfect for a gig in a pub on a hot day.
I got this dress from Retrostar - a huge jacked-up-prices vintage store in Melbourne city.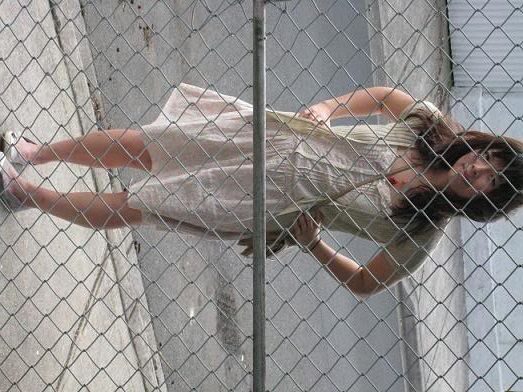 (forgive the pictures, the boy thought it would look artistic taking photos through a wire fence, and couldn't be convinced otherwise)
I have mixed feelings about shops like Retrostar. On the one hand, I appreciate that it can be handy to have a bunch of wonderful vintage all in one place, and that the prices are appropriate for the time and effort taken to source the clothes. It's also instantly gratifying to find so much great stuff in one place.
The main problem I have with these stores is that I am terribly indecisive, and there's just
too much
to decide between (I've also been known to suffer dizzy spells in huge stores such as Savers). Also, it kind of takes away the thrill of unearthing a rare treasure.
Nonetheless, I still like going to vintage stores on occasion, especially this year when I can't buy anything from a boutique. It's nice browsing racks and racks of beautiful clothes. This dress was the first thing I ever bought from Retrostar, and I'm glad I did because I really love it, but I probaby paid a bit more than I can afford for it.
Just one more picture, because it's a bit funny, making me look like I'm in a zoo, or prison, or something!

Dress: vintage via Retrostar
Cardigan: from a store that was closing down in the city a few years ago
Shoes: given to me by my mum
Necklace: self made, from an earring
Bag: ebay