So on Sunday, we walked to the High St festival in Northcote. It was a beautiful, colourful day, so I wore a great dress I found at the Brotherhood op shop in Royal Arcade (the upstairs, 'upmarket' one!) Would have loved to wear some heels with this dress too, but knew we'd be doing lots of walking.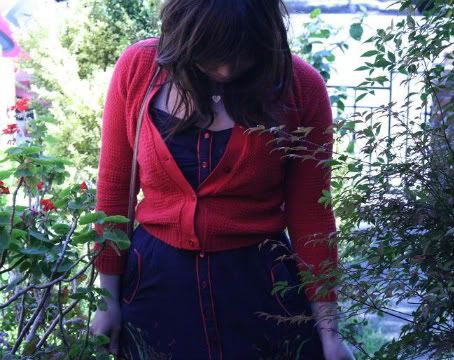 Wasn't so sure about the dress when I first found it. It has some of my favourite things in a dress (button-down front, sweetheart neckline, pockets, piping, thick straps, and flowers) but it was still one of those pieces I looked at, walked away, then kept on going back to look at. I wasn't sure about 2 things:
1) the price ($22.50 - quite expensive for an op shop dress), and
2) the brand - Billabong, I probably normally wouldn't buy this brand!
Eventually I justified it by telling myself I buy dresses for much more than that from ebay... and regarding the brand - well, I'd never buy anything just
for
the brand, so I shouldn't
not
buy anything because of the brand either!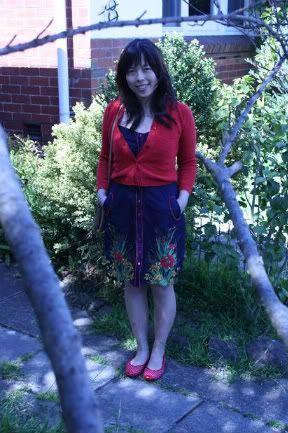 In the end, I'm glad I justified it.

Dress: op shop
Cardigan: from when I was little (Then - was oversized. Now - cropped and fitted)
Polkadot red shoes: bought in Singapore for me by my mum
Bag: ebay

P.S. I feel so honoured that the gorgeous Skye from
Skylark and Son
tagged me. Being new at blogging, I'm not sure how tagging works, but I'm sure I'll find out.
Also, I'm not sure what the blogging ettiquette is for linking people? Do I have to ask to link people, so far I have been asking, maybe someone could shed some light for me?