Yesterday we went to a friend's wedding, that was in the bush. It was beautiful - I think when I get married, I would also like it to be in the outdoors. Perhaps on the beach, barefoot, flowers in the hair, and carrying some killer heels in one hand...
The dress code was 'warm, neat and casual'. This was a source of some consternation for me... What exactly is neat casual? In the end I settled for a dress (in my books, this is casual, as I virtually always wear a dress). Seamed stockings, ankle boots and (luckily) a warm coat, as it did get very very very cold.
The dress is this amazing creation, that I purchased a few months ago as a secondhand/vintage item. I'm pretty sure it was once a two piece blouse/skirt set, that was lovingly crafted into a dress (there are home-made seams with different coloured thread where they joined the top & bottom, and also where they cut the old sleeves off). Someone who is a far better seamstress than I created this, and then let their beautiful work go out into the world, where it found me.. and I couldn't be happier. This has become one of my favourite dresses. I love the ruffles on the chest and skirt, and there's gorgeous vintage gold buttons.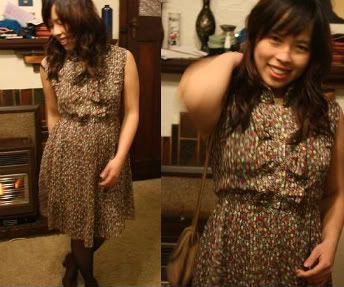 Ah, I look so tired in these. We were in too much of a rush to take photos before we left, so these were hurriedly taken when we got home at 1am, it shows too.