I'm such a novice blogger, I just realised I forgot to describe my outfit in the last post. Well, the top and skirt in question is actually second hand
Witchery
from the Brotherhood of St Laurence shop in the Royal Arcade, Melbourne. It's not vintage and it's not too interesting, but good for days when I want to look structured and stylish but at the same time stay comfortable.
Well, today was wonderfully warm, the first day in a long whiles I've been able to venture outside sans coat.
This dress started life out as a 70's maxi dress. Maxi dresses really do NOT suit me, they make me look even shorter and stubbier than I already am! I do really like the whole free-and-easy maxi dress look, but chopping the bottom off this one and hemming it was a no brainer.
It has the most adorable floral print on the yoke and sleeves...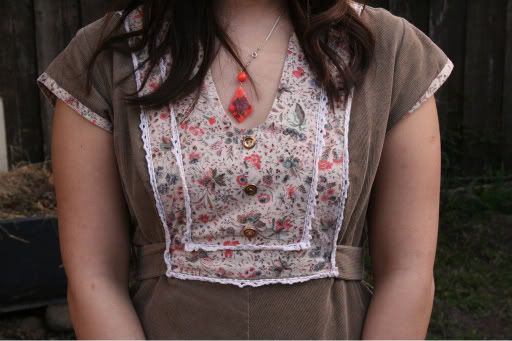 The necklace, I made from a pair of earrings. For some reason, people keep giving me earrings, even though I don't have pierced ears. I couldn't pass this pair on though, because the dried flowers and bright orange resin is just too cute.
The bag is one of the treasures I found last weekend in Port Fairy. I love tapestry.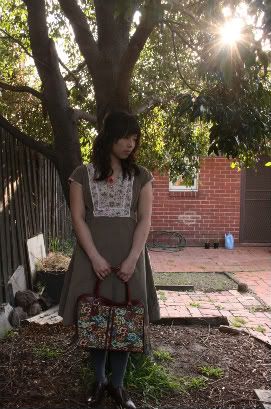 Dress - some vintage store, which I can't remember the name of.
Necklace - self-made.
Tights - my sister's old school tights.
Boots - ebay.
Bag - Port Fairy op shop.

Our backyard is inexcusably messy. Now that spring is here, I should be doing some gardening...