I get so excited with the onset of spring, the air just positively hums. Today was so brilliant I just didn't know what to do with myself.. in the end it was a lazy day at home - sewing, drinking coffee and reading the weekend papers.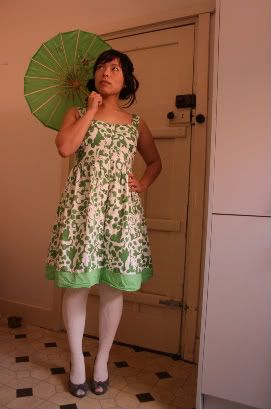 This is what I wore today. I love wearing this dress, even if it's just to hang the washing on the line. The parasol was a random gift from my best friend, it's tiny and not at all practical in a parasol-sense, but it's very cute in a for-the-sake-of-it sense.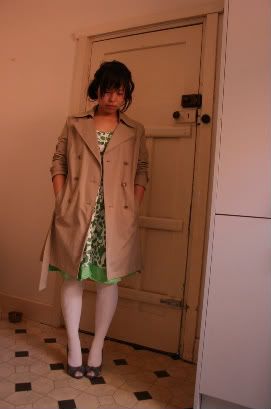 ...and this trench coat, which goes with everything.

Dress: Smith street opshop
Shoes: Betts from 2007
Coat: ebay
Parasol: gift

I will be posting the Port Fairy stuff soon. I have taken all the photos, but it's taking forever to upload and resize my photos. They are huge if I don't resize them but using the proper resizing programme does take a while. I might have to go back to resizing thing in Windows "Paint". It may be crude, but at least it's fast.
Tonight there was a bit of stress involving the boy's car and break-downerage in the middle of a main road! It left us both a bit agitated so it was a quiet Saturday night in with a home-cooked meal.